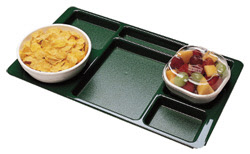 Cut dishwashing labor and expense in half with these 2 x 2 Compartment Trays. The unique design lets you fit 18 trays side-by-side in a Camrack® Peg rack. This saves on water and chemical expense. A gradual slope on the compartment walls promotes faster drying for quicker cleanup.
There are two variations, one with rounded compartments while the other has square compartments. Trays are available in Camwear or Co-Polymer for durability and scratch-resistance.
Available in various colors; please call for details.
Camwear Trays
| Model | Description | Size (LxWxH) | Case Pack |
| --- | --- | --- | --- |
| 1596CW | With Rounded Compartment | 9"x15"x7/8" | 24 each |
| 915CW | Square Compartments | 8 3/4"x15"x3/4" | 24 each |
Co-Polymer Trays
| Model | Description | Size (LxWxH) | Case Pack |
| --- | --- | --- | --- |
| 1596CP | With Rounded Compartment | 9"x15"x7/8" | 24 each |
| 915CP | Square Compartments | 8 3/4"x15"x3/4" | 24 each |