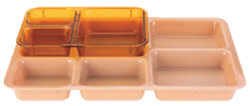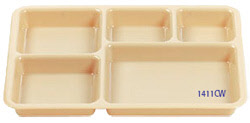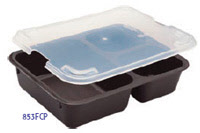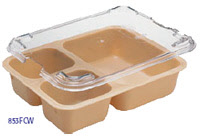 The Base Tray includes 5 compartments with one compartment for nesting the insert tray. This design allows the base trays to work as a stand-alone tray or for in-cell feeding with the insert tray. Available in virtually unbreakable Camwear polycarbonate and pliable, break resistant Co-Polymer, these trays are textured to reduce damage from scratching and daily use.
The Insert Tray is designed specifically for cook-chill applications as it can be sealed with heat seal film or snap-on cover. 3 deep compartments for ample portions. Like the base trays, the inserts are made from Camwear polycarbonate or Co-Polymer and heat resistant plastic.
Base and Inserts available in various colors; please call for details.
| Model | Description | Size (LxWxH) | Case Pack |
| --- | --- | --- | --- |
| 1411CW | Polycarbonate Tray | 14 3/8"x10 9/16"x1 1/4" | 24 each |
| 1411CP | Co-Polymer Tray | 14 3/8"x10 9/16"x1 1/4" | 24 each |
| 853FCW | Polycarbonate Insert | 8 11/16"x6 5/16"x1 7/8" | 24 each |
| 853FCWC | Insert Lid for 853FCW | N/A | 24 each |
| 853FCP | Co-Polymer Insert | 8 9/16"x6 5/16"x1 7/8" | 24 each |
| 853FCPC | Insert Lid for 853FCP | N/A | 24 each |
| 853FH | Heat Resistant Plastic Insert | 8 11/16"x6 5/16"x1 7/8" | 24 each |
| 853FHC | Insert Lid for 853FH | N/A | 24 each |