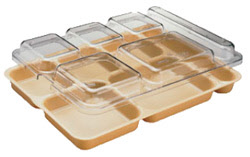 Plastocon separator compartment trays have specially designed covers to make meals easy to deliver. The tray and cover separate each compartment to retain food temperature and reduce spills. 6 deep compartments allow for generous portions.
The cover provides a secure fit using locking ridges on the top and bottom of the tray for easy and secure stacking. Textured to reduce scratching. Available in Camwear® polycarbonate and pliable break-resistant Co-Polymer.
Tray and cover are sold separately. Available various colors; please call for details.
Camwear Trays
| Model | Description | Size (LxWxH) | Case Pack |
| --- | --- | --- | --- |
| 10146DCW | Six Compartments | 10"x14 3/16"x1 5/16" | 24 each |
| 10146DCWC | Tray Lid | N/A | 24 each |
Co-Polymer Trays
| Model | Description | Size (LxWxH) | Case Pack |
| --- | --- | --- | --- |
| 10146DCP | Six Compartments | 9 7/8"x14"x1 3/8" | 24 each |
| 10146DCPC | Tray Lid | N/A | 24 each |