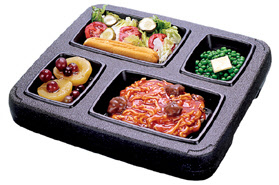 Stacking Correctional Food Service Tray
A seamless, one-piece, stacking meal transport tray, the Insulator is a durably molded tray with four food compartments. It is designed to allow each tray to cover the tray below when stacked, meaning fewer pieces to wash. It can be used independently or with certain existing meal systems.
No Seams, No Holes, No Foam = No water logged trays
Designed to eliminate water absorption during warewashing and soaking
Available in 3 colors: Brown, Beige, and Grey
Self-Stacking = Each tray acts as a cover for the one below
Stacked trays can be easily transported to serving areas
Retains temperature with thermal column formed during stacking
Non-toxic if burned
Recyclable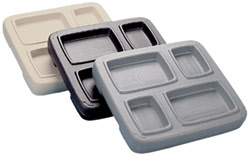 OVER 6,000,000 MEALS SERVED IN CORRECTIONS ANNUALLY ON THE INSULATOR!
| Model | Description | Size (LxWxH) | Case Pack/Weight |
| --- | --- | --- | --- |
| DHT-4 | The Insulator | 15"x13.6"x2.6" | 12/33lbs. |
Configuration
Server Compartment Sizes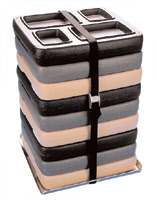 2 Entrée Compartments 7.1"L x 4.6"W x 1.0"D
2 Side Compartments 4.6"L x 3.4"W x 1.0"D
Dimensions
Length: 15"
Width: 13.6"
Height: 2.6"