Heavy Duty Can Racks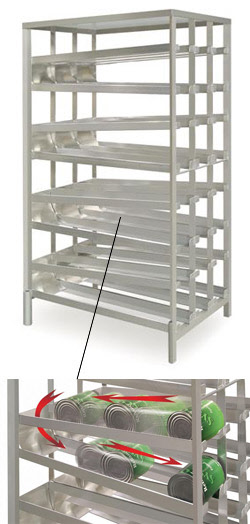 Heavy duty can racks specially designed for correctional kitchens provide a variety of storage units which put your entire stock right up front in full view for easy selection and inventory control.
Choose from space saving storage units that can be loaded from the front or back. The inclined shelves let the cans roll to the front of the rack for quick access and automatic stock rotation.
Call Plastocon and we'll help you find the rack to fit your facility needs.
| Model | Capacity | Size (WxDxH) | Material | Weight |
| --- | --- | --- | --- | --- |
| CSR-84 | 84 10lb. cans | 26 3/8" x 42 1/2" x 40 3/4" | Aluminum | 135 lbs. |
| CSR-210 | 210 10lb. cans | 26 3/8" x 42 1/2" x 86 1/2" | Aluminum | 200 lbs. |
| CSR-308 | 305 5lb. cans | 26 3/8" x 42 1/2" x 72 3/4" | Aluminum | 230 lbs. |
| CRS-FF-156 | 156 10lb. cans | 27 1/4" x 42" x 81 1/16" | Aluminum | 200 lbs. |

*Casters are available; Call for details