Kitchen Organization Racks for Prisons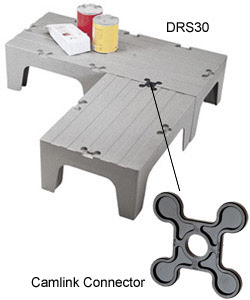 These slotted dunnage racks conveniently and efficiently store food, liquids, and other inventory off the floor. Designed to meet the minimum height restrictions of health departments, these dunnage racks are engineered to support the excessive loads often encountered by users at correctional facilities. These units are manufactured from heavy-duty polyethylene that won't rust or corrode. The double walls and seamless construction are incredibly strong and durable for years of continued usage.
Available in Black, Dark Brown, and Grey.
| Model | Description | Size (LxW) |
| --- | --- | --- |
| DRS30 | Solid Top Rack | 30" x 21" |
| DRS36 | Solid Top Rack | 36" x 21" |
| DRS48 | Solid Top Rack | 48" x 21" |
| DRS60 | Solid Top Rack | 60" x 21" |
| DRS300 | Slotted Top Rack | 30" x 21" |
| DRS360 | Slotted Top Rack | 36" x 21" |
| DRS480 | Slotted Top Rack | 48" x 21" |
| DRS600 | Slotted Top Rack | 60" x 21" |
| DRLNK | Camlink | N/A |