Stainless Steel Heavy Duty Delivery Cart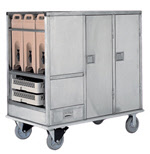 Plastocon's heavy duty stainless steel meal delivery cart is specially designed and manufactured for the distribution of complete meals, beverages, and chilled or frozen food items to inmates in correctional facilities. This functional delivery cart also accommodates racks to transport mugs and bowls for beverages and soups. Plastocon's POC series cart is the stainless steel cart of choice in many correctional facilities across the United States.
Constructed of heavy gauge stainless steel, the meal delivery carts can be ordered in 48 or 64 tray capacity standard configurations or custom designed for individual facility needs. Plastocon's standard configuration carts are equipped with full stainless doors with recessed heavy-duty handle paddle latch with utility lock, a recessed push/pull handle at one end, 8" semi-pneumatic casters, two swivel with brakes, two fixed, continuous bumper, space for (2, 3, or 4) 20" x 20" bowl/mug racks and space for three side-by-side 2 1/2 gallon or 5 gallon capacity insulated plastic beverage dispensers with built-in overflow trough.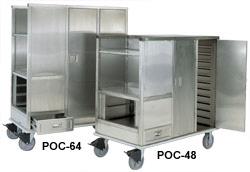 A separate insulated drawer is provided for frozen or chilled food items. These carts can also be ordered with a security package for facilities that require additional locking features.
Base composed of 16 gauge stainless steel
Interior shelves, end and back panels composed of 18 gauge stainless steel
Door back and front are 20 gauge stainless steel, double pan construction
Tray slides are 18 gauge on 3 5/8" centers
All vertical and horizontal structural beams are 1 1/2" x 1 1/2" stainless steel tubing with .049" wall thickness
Exposed welds are ground and polished for safety and appearance
Dimensions:
| Model | Description | Size (LxWxH) | Tray Capacity |
| --- | --- | --- | --- |
| POC 48 | Stainless Steel Meal Delivery Cart | 55" x 32" x 55.5" | 48 |
| POC 64 | Stainless Steel Meal Delivery Cart | 55" x 32" x 69.5" | 64 |
Heavy-Duty Correctional Cart
With a load capacity of one ton, these carts are designed and built to withstand the rigors of correctional handling. These carts are designed to transport inmate meals in insulated trays, plus accompanying beverages, in configurations large enough to serve up 136 inmates per cart. Carts constructed of extra heavy gauge stainless steel with all welded construction...these are our best carts!
These units come standard with semi-pneumatic casters.
Dimensions:
| Model | Description | Size (LxWxH) | Tray Capacity |
| --- | --- | --- | --- |
| NUF 711-4675 | Correctional Delivery Cart | 50" x 28" x 45" | 104 |
| NUF 711-4736 | Extra Heavy Duty Delivery Cart | 65" x 28" x 45" | 136 |