Gravity Conveyor for Tray Transportation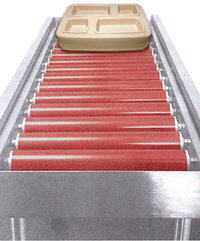 Replaces mechanical conveyors by utilizing gravity to propel trays. All welded stainless steel construction accommodating any size tray.
Plastocon provides a range of options for your Tray Assembly Line. Our conveyors are designed to minimize conveyor problems and downtime. Unless there are specific needs for a motorized conveyor, we would recommend simple roller or skate wheel conveyors. They provide low maintenance, are easily cleaned, and accommodate virtually any tray size. Conveyors can include electrical raceways designed to accommodate existing support equipment (Steam tables or other electrical) or new support equipment.
When setting up a tray line, remember to plate hot food last, room temperature and cold food should be located near the start of the tray line. As some or all of the hot foods are plated, utilize the available covers as fast as possible to reduce food temperature loss.
Our elite skate wheel conveyor design is intended for facilities where space constraints will not accommodate a conventional line.