Tray Drying Rack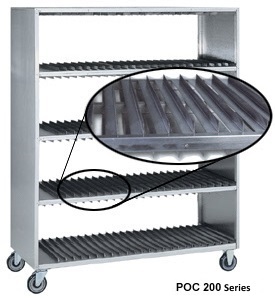 Plastocon's Tray Drying Rack lets you dry, store, dispense and transport trays easily and efficiently. It is available in either stainless or aluminum construction, each with four shelves. The rack can be moved easily from location to location for efficient tray assembly. This drying rack series is made to hold all the trays Plastocon makes and sells. Please call for available sizes made to custom fit our trays.
Two swivel-stem casters with brakes and two rigid allow the unit to be moved effortlessly. The strong, reinforced framework prevents twisting and binding as the rack is moved, and provides added security in stacking trays. Panels are removable for easy cleaning.
Tray Drying Rack
Based on proven designs, Plastocon racks are built to enhance efficiency and meet the basic needs of the food service industry.
Superior Framework
Prevents twisting
Standard solid side panels
Long-lasting welding construction
.080 Aluminum or 16 gauge stainless steel 1" x 1" tube
Tray Dividers
Accommodates various tray sizes and capacities
Open architecture aids in drying time
Removable for easy cleaning
.063" thick aluminum or 20 gauge stainless steel construction
Accommodates various tray sizes and capacities
Heavy-Duty Casters
5" x 1-1/4" sealed wheel
Delrin ball bearing, each with 350 lb. capacity
Maximum resistance to chemicals, acids, bases, alcohol, water and steam
Maximum low temperature flexibility for superior performance even in freezing temperatures
*Capacity will vary depending on model and tray configuration. Please call for available sizing.
Tray Drying Rack Specifications
Tray Drying/Storage Rack
Stringent quality control and precise engineering makes Plastocon's drying racks the finest in the industry. Insulated trays are placed on shelves at an angle after ware washing allowing ample storage between meals.
Each drying rack is a combination of heavy-duty plated wire shelving, posts, and three-sided enclosed panels. The open wire shelving ensures adequate ventilation for drying trays.
The four stem casters are constructed of non-marking polyurethane and feature 3.5" donut bumpers which provide the correct combination of roll-ability/maneuverability and safety to satisfy your requirements.
Plastocon's drying/storage racks are available in 36" and 72" shelf sizes.
Specifications
| Model | Description | Size (WxLxH) | Capacity "Hot Trays" | Capacity "Insulators" |
| --- | --- | --- | --- | --- |
| POC-36* | Drying Rack | 36" x 24" x 62" | 108 | 36 |
| POC-72* | Drying Rack | 72" x 24" x 62" | 169 | 72 |
*Assembly required